---
The best way for you to move your stuff
Our Family Owned Business Guarantees Quality Work Because We Put Our Name On It!
Moving Solutions
Nicolosi Moving and Storage
You will receive quality care, flexibility, and the low cost of a locally owned company. You get personal service with the same experience, equipment, and facilities of the larger van lines.
Get Your Free Estimate
Some facts
Why people choose us?
Tucson Movers since 1989
$2 mil Liablity Insurance
Guaranteed Quality
Licensed and Bonded
Read more
Nicolosi Movers: Between the best 10 Tucson Movers for 2017
Jack Nicolosi
Founder - Nicolosi Moving and Storage
---
Founder and President of Nicolosi Moving and Storage. 25+ Years of Moving and Storage Experience in Tucson AZ.
Jack Jr.
Vice President
---
Jack Jr. has spent his entire career expanding and practicing his knowledge of customer service with integrity.
Our Family & Team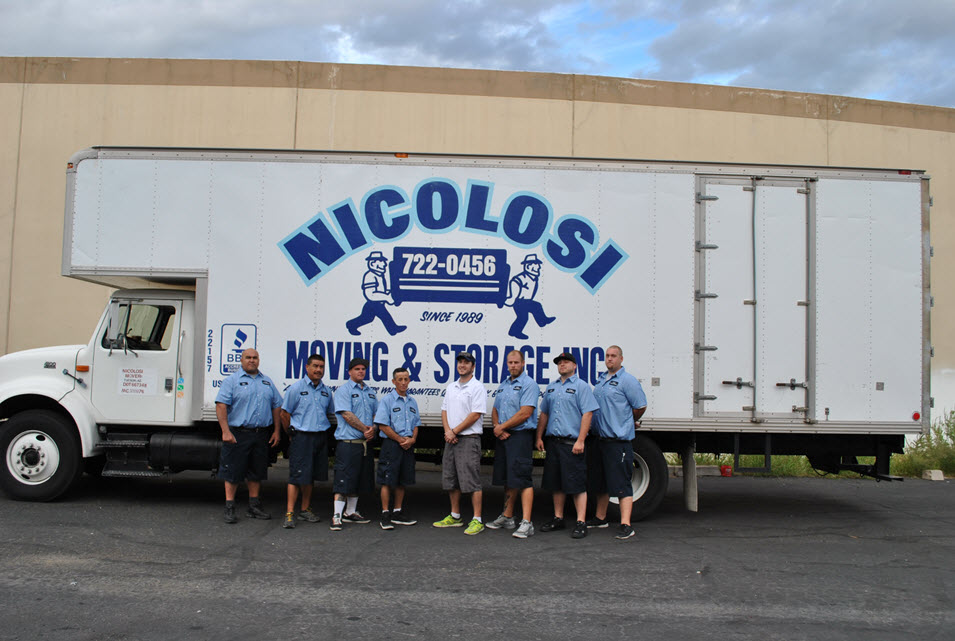 "Coming together is a beginning. Keeping together is progress. Working together is success." Henry Ford, American industrialist, the founder of the Ford Motor Company
Why Nicolosi Moving is the best?
We go the extra mile to make your move as hassle-free and stress-free as possible!
Nicolosi Moving & Storage in Tucson provides a broad range of moving services, from "full pack and move" to small "piece moves." We are happy and able to pack up your entire house — and even unpack for you. Our mission is to make your moving experience as easy as possible!
We will crate or make special boxes for your fragile items, like your cherished grandfather clock. We can take down and re-hang heavy mirrors and pictures for you, or shrink wrap your sofas and chairs .
If you prefer we can dis-assemble and re-assemble all household items at no extra charge, including but not limited to: washers and dryers (except gas), refrigerator water lines, water beds, and platform beds to name a few. Still have questions? Gives us a call today so we can put your mind at ease and make your simple move or relocation as easy as possible!
Nicolosi Moving & Storage, Inc. is proud to have been in business in the Tucson area since 1989.
Our moving company is smaller than some of Tucson's other moving companies. The benefit for you is we can offer specialized moving and storage services that national chains and large moving companies cannot.
You will have direct access to the owner, Jack Nicolosi. Which goes a long way to helping ease the stress of moving and feeling confident that your belongings will be properly cared for. Jack believes in customer satisfaction, and that is exactly what you will receive with Nicolosi Moving and Storage!
When we say we are a low-cost moving company, we're not talking about cutting corners or service to get you a lower price. We include many free services that big box moving companies like to charge for. This has made Nicolosi Movers the obvious choice for reducing the cost of your relocation.
Keeping with our family mindset, the quality of our personnel is better than many of the larger companies. You deserve clean-cut, friendly professional movers who have been with us for the long term. You will see the Nicolosi Moving Team difference. Our professional movers enjoy their work and are proud to be part of our family. We train our movers ourselves (many are family members) to make sure you receive the best quality moving experience. Each team member is fully competent to do the tasks you need done, and will do it right the first time.
For your peace of mind, all employees of Nicolosi Moving & Storage, Inc. are fully bonded and insured for accidents and disability.
When choosing the family owned Nicolosi Moving & Storage, Inc. you are protected by $2,000,000 general liability coverage, $50,000 cargo insurance, and $10,000 bonding insurance. We make sure to protect you and your valuables. We know relocation can be stressful. We are here to make it easy for you.
Nicolosi arrived on time, provided the service requested, and charged what they quoted. The most impressive aspect to the move was their attention to our request to carefully handle breakables such as a 58" plasma TV, grandfather clock, large mirrors, and framed pictures. They spent an inordinate amount of time padding and packing these valuables and then were extremely careful moving them to the new house. In the future should we need a moving company we would not even compare moving company bids but would immediately call Nicolosi.

Jack provided a good estimate and was very professional and courteous. He wanted to make sure my move went well. On move day Tim and Rey arrived early, which was good for me, and worked quickly and efficiently. They were professional and knew what they were doing. They were also friendly and wanted to make sure everything went well, which it did. Thank you!

They packed my house up in Tucson and moved everything to my home in Flagstaff. They did this on a Sunday which was very much appreciated and convenient. They were on time and very quick with the move. Extremely polite and everything was done very well. Overall a great experience. I would highly recommend them to anybody that needs to move!

They were punctual and helped with w/d hookup and furniture assembly. More over they were fast! I really appreciated that they made it easy and that it really went the way that I expected. I can't say enough about them and I have used them twice in the past month. I won't hesitate to refer people their way.

These guys are the best. This was the best moving experience my wife and I have ever had. Jack the Younger, Sam and Martin worked hard, fast and smart. They also helped us pack which was incredible. Service was very reasonably priced considering all the stuff these guys did for us. We highly recommend Nicolosi Moving & Storage Inc.

The first move, we had Jack, Jerry and Travis. They were the most courteous, pleasant, careful and hard working young men I thought I'd ever seen. However; the following week we had Jack, Jerry and Enrique. The only change was Enrique instead of Travis and, my gosh, they continued to be the very best in the world. They worked hard, continuous, and they all maintained a great sense of humor. They made this the best move we've ever had and we have made many military moves. I very highly recommend this company. You won't be sorry.

The movers arrived on time, were very friendly and helpful and were done in less time than estimated. Because they finished early we were charged less than their estimate.

These young men were very professional.  They went above and beyond to place our furniture with our decorator, and nothing was broken or damaged in any way.  In addition they were pleasant to spend the day with.  I would recommend them to anyone.

Very careful, efficient, professional, hard working, family owned business really took pride in their work. Very helpful, very reasonably priced since they packed the whole house and moved the house and storage and unpacked everything, so amazing and easy to work with. customer service cannot be beat and they are super careful.

Excellent. The company came to our home to provide an accurate bid, which assisted in our decision to use Nicolosi. The movers were professional and provided good service. All aspects of the bid were clear. Care was taken with moving our household. Thank you!
You Get Quality Performance and Peace of Mind at Reasonable Prices!
Nicolosi Moving & Storage, Inc. prides itself on being accessible 24 hours a day, 7 days a week. We are happy to schedule estimates for evenings or weekends. Please call or e-mail us any time you have questions or concerns. We're here to help you, and make your move as easy and trouble free as possible.